Deep tissue Massage – 90min @ $105

Unwind your tight body muscles and mind with a massage blending techniques drawing from American and European cultures.
What is a Deep Tissue massage?
Deep Tissue massages use similar strokes to the Swedish massage but pressures are longer, firmer and focus on areas of pain and tension. The therapist manipulates muscles that are below the surface of the top muscles and the connective tissues. "Against grain" strokes are used to break fiber adhesion, oxygenize the muscles and get rid of toxins
Trigger Point Therapy: Trigger point therapy is also known as Myotherapy or Neuromuscular Therapy and applies concentrated finger pressure to "trigger points" (painful irritated areas in muscles) to break cycles of spasm and pain. It appears that most muscular pains have a trigger point that causes the muscle to go into spasms. Trigger Point Therapy involves placing pressure on that trigger point so that the muscle can relax and the pain can be lessened. Pressure is generally applied with fingers, knuckles, and elbows. This form of therapy is often followed by stretching the muscles. The basic idea is that the trigger point which is the source of the pain is not always where the patient feels the pain. The trigger point could be several inches away from the place where they feel the discomfort or pain. IT is said that by applying pressure to the actual point of the source the practitioner in turn may be able to control the pain experienced.
Hot Stone Massage – 1 hour @ $90 | 1.5 hour @ $120

Utilizing the principles of thermo-therapy with application of hot basalt rocks & cold marble stones. The use of hot and cold produces alternatively sedative and re-energizing responses in the body. This dance of the circulatory system assists in self-healing. The deep, penetrating heat of the basalt stones allows the muscles to quickly relax, enabling the therapist to work deep into soar areas of pain and stiffness, going beyond the realm of physical experience.
Special Treatments for Mothers & Infants (prenatal massage and newborn/infant massage) 
Consult with Harsha or Vipasha about various herbal supplements and exercises to strengthen your health and ease delivery.
Prenatal massage: 1 hr@ $65 This massage has many of the goals of regular massage ­– to relax tense muscles, ease sore spots, improve circulation and mobility, and just make you feel good. But it's also tailored specifically to the needs of pregnant women and their changing bodies, and therapists who are trained in prenatal massage adjust their techniques accordingly. Usually you have to lie sideways on the massag table with a pillow between your legs.
Infant massage: 45min @ $40 Regular massage helps to develop the infant's brain and nervous system, improve visual acuity, and stimulate the senses. It is a testament to the power of loving touch and how it nourishes the deep bond between parent and child. Massage also helps your baby sleep better and relieves gas and symptoms of colic.
Choose 3 of the treatments below and receive 15% off the total price!
Facial Treatment – 1 hour @ $65
This is a three-step treatment with all-natural ingredients:

1. Exfoliation with honey and lemon juice.
2. Application of mud pack with antioxidant and sandalwood powder.
3. An aromatherapy steam.
After these three steps, I offer a nice, soothing massage with aromatherapy oil and ice.
(The mud pack and exfoliating mixture are customized to your skin type. I also offer special treatments for acne using 100% natural, organic products.)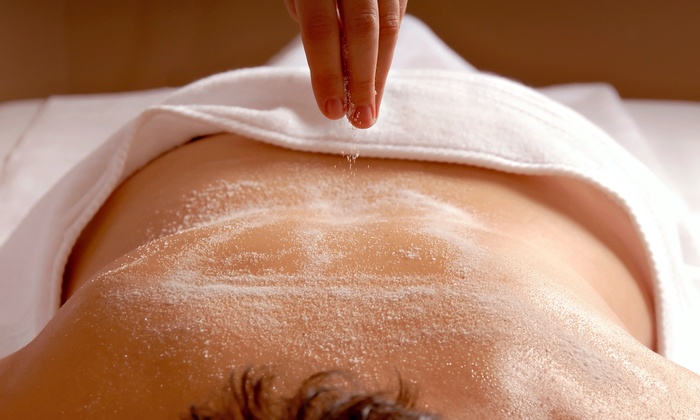 Back Scrub – 1 hour @ $75
This is a 4-step treatment for dry or problem skin. (I will use a different scrub depending on your skin type.)
1. I start by cleaning the dry, dead skin.
2. Exfoliating the back
3. Scalp massage while your back is hydrating with oil and warm towels.
4. Warm, relaxing back massage with your choice of organic aromatic oils.
Scalp Treatment – 50 minutes @ $60

This is a 3-step treatment:
1. I start with a warm, aromatherapy oil massage on your scalp for 20 minutes.
2. A massage on your shoulders and neck while your hair is wrapped in warm, moist towels.
3. Wash your hair with natural, organic shampoo.
This treatment can rejuvenate your sun-damaged hair.
Hair Treatment with Henna – 30 minutes @ $55
Starting with a 10 minute hot oil massage on your scalp, I then apply a mixture of helps and henna soaked in yogurt to your hair. Keep the henna in your hair for as long as your want for deeper, darker color. This is great for damaged hair!
Hair Treatment – 30 minutes @ $55
This is the same as above except Henna will not be used. You will have the benefits of herbs without the color.
Hand or Foot Treatment – 40 minutes @ $60
This is a 3-step treatment:
1. I start with soaking your hands or feet in warm water with citrus fruits.
2. 20 minute massage (for feet from knee down, for hands for elbow down).
3. Soak your hands or feet in warm, sandy water to balance your magnetic flow for 10 minutes.
Herbal Body Wrap Therapy – 1 hour @65
Warmed linen sheets soaked in herbs and essential oils cocoon your body to provide complete relaxation and deep body cleansing.
Ear Candling – About 1 hour @ $58
Gentle removal of ear wax and a nice, soothing massage around your ears. Includes beeswax candles (one pair). If you need more, it is $8.00 per candle pair.